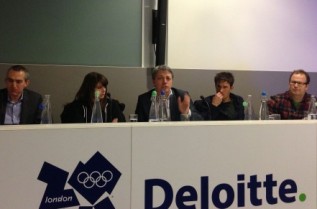 Last night, FAC co-CEO, Crispin Hunt, took part in Music Ally's 2013: A Survival Guide, speaking specifically in terms of the future of digital music. He was joined by Francis Keeling, Universal Music's global head of digital business; Joe Cohen, CEO of ticketing firm Seatwave; Karen Piper, Columbia Records' head of digital marketing; and Steve Purdham, boss of we7.
A particular highlight of the night was Francis Keeling's slapdown of windowing album releases on digital streaming services; a view echoed by the FAC, which can lead to alienating fans and encouraging piracy.
The full panel blog can be read below….
The night was divided into key themes for the panel to discuss, interspersed with video contributions from other industry figures, used as talking points.
The first question: how are we going to be consuming music in 2013? Keeling was first to field it. "We can all see the massive transition to mobile," he said.
"I think tablet is going to have an enormous impact actually, just as a far more portable device giving you that improved experience, to find music, to build playlists… You've got the ability to listen, but at the same time to be curating, and building. The tablet can give you a much more immersive experience of music."
Keeling said Universal is preparing its business for this, and gauging what consumer demand will be via tablets and apps. "Consumers will subscribe to certain services, but I think often their consumption will be through third-party apps." Keeling cited SpotOn Radio as a good example: an app that requires users to have a Spotify subscription, but which delivers personal radio features beyond the main service.
Over to Karen Piper. "It's going to be interesting to see what iTunes do to address streaming," she said. "Everybody's going to shift to suit the market that's emerging. iTunes and Spotify aren't going to go away, they're just going to amend what they offer. Spotify have just done that with the social 2.0 – there was a need there for curation, and that's what they've done.
Purdham pointed to the idea of people being "surrounded by technology" in 2013, having just bought his 81 year-old father-in-law an iPad. "I think you've got to be a little bit careful. There's going to be so much technology around, the ability to play music is there. Whether they do or not, that's the next big step we have to take… It's the mass-market we really have to address."
What does all this mean for artists? "I think it's a fantastically exciting time for artists," said Hunt, who besides his FAC role is a songwriter and artist. "New bands have got so many ways to build up a fanbase… One of the things I'd like to see is that artists are included in the discussions and debates that are going on with our future and our work," he said.
"Artists have always been at the forefront. We were the first ones to start setting up websites and flogging stuff ourselves. It's now very important that the industry deals with us transparently, and then we'll be able to get behind it… It's very important that we can carry on creating, and we don't just get lost in a sea of 1m genius songs on SoundCloud that will drown us all!"
And Cohen, who said we're moving more and more towards the idea of having "our playlists anywhere with us", ready to be played through whatever screen and/or speakers are in the environments we find ourselves.
Cohen thinks the more music is available to listen to, the more valuable it will make the live experience. "It's becoming more and more a unique, sacred and valued experience," he said, before adding that people will use different platforms to listen to music depending on their age and preferences. "My children who are 11 and 9 listen to all their music through YouTube," said Cohen.
A lot is resting on mobile's shoulders in 2013 from a music perspective. Can it bear the weight? Piper pointed out thatapps need to be "particularly compelling before someone is going to invest in that. I've seen a million apps that aren't… You need to give a reason why people will download it."
More positively, she said a recent app from Columbia has seen "enormous" click-throughs to buy the artist's album – more than the label expected – which bodes well when these apps are done right.
Keeling talked about some of the problems with mobile music – "carriers aren't being hugely helpful in this area in terms of providing good, low-cost billing systems for music services" – while also noting that mobile advertising is still relatively difficult, in terms of making significant revenues from it to support a music service.
"That's one of the nice things about mobile," said Hunt. "You can't get bombarded with adverts. And also in the same way it's not so easy to access things like pirate sites, so hopefully people will start to use proper services to access stuff."
He also expressed the hope that improved devices and networks will also bump up the audio quality of digital music, praising Neil Young – "the old fucker that he is, being a pioneer!" – for his attempts to develop a higher-fidelity music downloads service called Pono. Hunt hoped people will get "sick of listening to nasty chinkly-chinkly MP3s" and pay for better quality music to go with their expensive headphones.
Conversation turned to streaming services, and the controversies around the way their payouts make their way into the pockets of artists. Or not. Hunt said he streams from Spotify, but criticised the lack of transparency around its payouts again.
"It does make me sick when I get the PRS statements and I'm trying to feed my poor children [said with mock-sobs] and there are 80,000 streams of something and it's made me one pound!" he said.
"As the digital environment opens up, it's got to become more transparent: the way that these new deals are done. Because new and groundbreaking innovations spring out of nowhere the entire time. Artists have to be included in that, or we won't be able to make art any more."
Universal's Keeling responded, pointing that iTunes has been around for more than a decade and is still expanding globally, while Spotify has launched in 15 countries after four years. "The point being it takes time, fot services to grow and change consumers' behaviour," he said, pointing also to the "massive potential" of Google Play and Microsoft's Xbox Music, which both launched this year.
The panel moved on to bright spots for 2013. Hunt cited the industry's Global Repertoire Database as a "fantastic possibility", while also predicting that as licensing is made easier through one-stop shop type services "the entire culture of the internet would change, because at the moment it's so complicated."
However, he said he personally (as in, not FAC's official view necessarily) would like to see government involvement in ensuring these kinds of licensing initiatives work properly. "If it's left just in the hands of the industry to regulate themselves, they won't."
Keeling said the industry needs to keep licensing "as aggressively and pro-actively as possible", although he admitted that it's getting more complicated due to the sheer breadth of services and service types that are now out there.
"I don't think it changes the structure of labels continuing to invest in artists and creating a fantastic wealth of talent to encourage consumers to adopt these services," he said.
"There's a tremendous amount of baggage that we've all got to let go and move on from," he added. "You hear more and more yesteryear arguments about the relationships between labels, managers, artists and publishers. We are going to kick ourselves in a few years [if the industry doesn't move on from this and focus on new licensing models]."
Purdham agreed, and talked about a shift in the difficulties in licensing over the last five years from "impossible to… merely difficult!", but also said it's important to think about the potential benefits of taking digital music more into the mainstream.
"The internet is about scale," he said. "Walk down the streets, there are more people who don't stream music today, or who don't listen to it, than there are who do. That's what we've got to unleash, so my mum can push a button and listen to Frank Sinatra, my daughter can push a button and listen to Kings of Leon, and my son… Well, God knows what he wants to listen to!"
Hunt addressed a comment about artists sometimes being misinformed when they speak out on digital issues. "They are often extremely misinformed, you're right, but that's kind of our job," he said: more transparency would certainly help them be better informed.
Hunt segued into a discussion about the "new boss" – internet companies – versus the old boss of the record labels and publishers, noting that "at least the old boss pays us… Kim Dotcom has five Rolls Royces, whereas Lucian Grainge has only one!" He also coined a new term – "freehadists" – for people online who criticise artists who speak out on issues like copyright and piracy.
"When Lily Allen started speaking out on piracy, I was backing her and trying to support her, but she got these huge tirades from the freehadists," said Hunt.
Next up: a discussion of direct-to-consumer marketing and distribution. "You're dealing with humans at the other end of it:if you're putting out shoddy product, nobody's going to be interested, and if you've got no fans, nobody's going to be interested," she said. "If you don't have an audience or you don't have something good to sell beyond what they can buy on Amazon, you shouldn't invest in D2C for that project."
Keeling said that D2C has always been important for bands and fans. "In a world where we've got such declining shelf-space, and where digital services move you away from a relationship between the fans and artists in some sense, D2C does become more important," he said.
Cohen talked about a London startup called BuddyBounce, which helps artists track their fans and superfans activities across various social networks, and reward them. "You're going to take that notion of D2C and expand it," he said. "We'll be able to see all kinds of different activity and reward all kinds of different activity across platforms."
Hunt said he thinks D2C is "incredibly important for new artists… It's the way they now build a fanbase. It's essential for new artists. Also, I've got friends who run a company called AWAL who put out Portishead's last record. So for artists who've got a large fanbase and want to keep their career going, they can go somewhere like that."
What can the music industry learn from other entertainment and media industries, like books, film and TV? For example, should the film industry's windowing system – where films go to cinemas, then DVD, then eventually to streaming services like Netflix – be mirrored for albums and streaming music services?
Keeling didn't mince his words: "Us trying to implement windowing in our business is a complete disaster, it's the wrong thing to do, and can only alienate the fanbases". However, he praised the way TV companies invest themselves in technology and platforms, citing Sky and HBO as examples.
"In publishing, in a world where newspapers and magazines have so traditionally made so much money from advertising, and the publishing world is still vastly ad-funded, we've got to look at that market, learn, understand how they've done it and how we integrate advertising into our product… Advertising is not something we should be afraid of. We should embrace it, and use it to fund a lot of what we're doing."
Conversation turned to Pandora, which is campaigning for a reduction in the rates that it pays for music on its platform, due to its business struggling to turn a profit under its current obligations. Purdham said it was baffling that a company doing hundreds of millions of revenues is finding it so hard, but Hunt had a pithy suggestion: "Maybe they've got a crap model and it doesn't work!"
Cohen said that while the music industry has experimented with windows "there's no  understanding of how windows on television or why they work", but said he'd also like to see more nimble release strategies – citing the publication of an e-book called 'Why Romney Lost' the morning after the recent presidential election as one possible inspiration.
The final prepared question on the night: what will Facebook, Apple, Google and Amazon do in 2013, and what does that mean for the music business and artists?
"The indicator is actually how much do we bring to those companies?" said Keeling. So the industry has had a longstanding relationship with Apple and Amazon in that regard. "As we move more towards an ad-funded consumption of music environment, then Facebook and Google get far more out of music… that the brings them far more closer to everything we're doing."
Piper said that from a marketing perspective, Facebook is "the ultimate tool for reaching your audience, if you know how to use it". And while Google+ isn't massive yet, "I do think they have some interesting tools to use. They're really pushing it at the moment, and they will continue to do so next year. They've really got their hooks in on that in the UK."
Purdham said from a financial point of view, Apple remains. "Facebook is the one that has potentially more to offer if it gets its act together, but it hasn't yet," he said. "Just the fact if you took Google away tomorrow, the industry would probably suffer the most, if you dropped a bomb on them and people could no longer do the searches, use YouTube and so on."
Hunt: "I think Apple are doing the most for music," he said, citing their devices and the iTunes service. Google? It's fair to say he was less keen.
"Google do the least in that they're an incredibly good search service, but I don't think they've got any sympathy for the music industry whatsoever. In the universal sphere of things they don't give a damn about how much we're selling, or the needs of our lobby. Amazon is Amazon: it's the new Woolies really. And Facebook is in interesting: they've lulled us into it so we're all dependent, and they're going to slowly find ways to advertise new things they'll do well out of, and new clever things that we as an industry will be able to use."
Cohen noted there haven't really been any commerce success stories on Facebook so far, while Amazon and Google both "wanna own the transaction stack for m-commerce", which will give them more of a role to play as music gets even more mobile and tablet-focused.
The panel fielded a question about music as utility, bundled into, say, people's broadband or mobile tariffs with the telco sucking up the cost. "We've had that conversation. I think it's complete bullshit!" said Keeling. "The idea of bundling music… I think the idea of giving consumers free experience is vital. We want consumers to change behaviour, and therefore carriers' ability to encourage that is important."
So, Universal likes the idea of ISPs and operators promoting trials and partnering with digital services. "You're kinda forcing the consumer into one product or service, and you're also actively encouraging breakage… What we wanna do is give consumers a great experience and then ultimately encourage them to pay: take up a service."
There was also discussion about how long CDs will live on – "The thing you often forget is you're in a bubble. There's a lot of people in the world who still buy CDs. They're the mass-market," said Piper. "Not everyone has an iPad sitting at home listening to Spotify" – while Purdham talked about we7′s new owner Tesco's sale of CDs in its stores, and warned against killing the CD off prematurely.
"People are getting fearful of buying CDs, as they think it might be the uncool thing to do," he said. "Yet they're not digital yet. If we push them away from the things they're happy to use and consume, and don't get them into the digital world, we lose them."