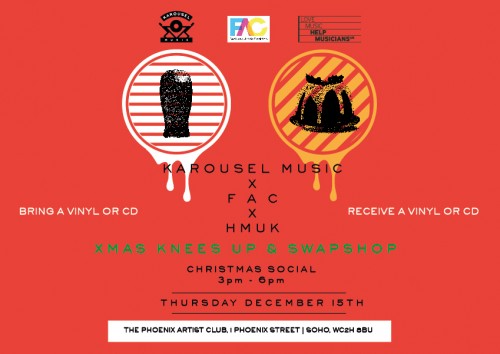 There's just enough time for one more get together before we say goodbye to 2016, so your friends at The FAC, Karousel Music and Help Musicians UK are teaming up for a quick Christmas Social in Soho.
We know everyone is gigged out and your schedules are packed, so we're having an drop in to give everyone the chance to catch up before we wrap it all up.
Speaking of wrapping, we were thinking: You won't find a better music recommendation than from a fellow musician, so we're running a Christmas give-and-get at the social where everyone can bring an album on CD or Vinyl and take something else away with them. Wrapping not essential, but hey – it may garner extra points for increasing the mystery… 
WHEN: 15th December, from 3pm (open end)
WHERE: Phoenix Artist Club, Soho, WC2H 8BU
Please RSVP to attend.