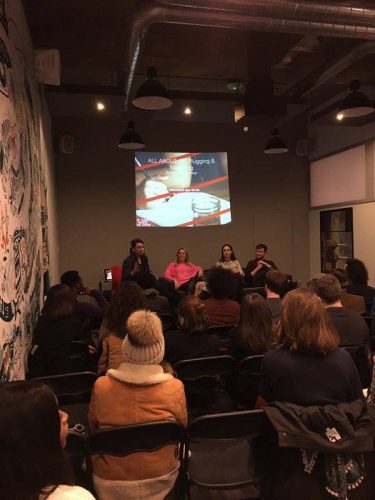 Tonight, we had the best of times hosting our very first ALL ABOUT event at Tileyard Studios:
ALL ABOUT: PR, Plugging & Marketing: Building your Campaign.
Our guest speakers Jo Hart (Hart Media), Cat Hockley (Fifth Element PR) and James Quinn (Autonomy Music Group) informed and inspired an attentive audience of artists of all genres.
Here's what stuck with us:
1. Establish a great body of work first, your brand next, then ask yourself who your audience is. Do all this before you seek help from a plugger or publicist.
2. Story is everything! Whether it's your life story, how a single came about or you pulling a witty PR stunt – what else is going on, besides the music?
3. Choose your publicist/plugger based on who else they are working with or have in the past.
4. When you're starting out, online publicity is the easiest to obtain, the cheapest to maintain and with a little creativity, you can stand out easily.
5. When running a campaign, you want to save your strongest single for the second release.
6. You will not be left alone with the decision of which singles to pick – your plugger can lend invaluable advice and experience.
7. Regional stories make national press. Explore different territories – you'll be surprised where your fans are!
8. Use statistics to find out where to tour next.
9. Have some great visuals to go with your music – this will make it easier to get featured on blogs (see 4).
10. Timing can be everything; there is no harm in re-releasing, if you find the right person to champion your song.